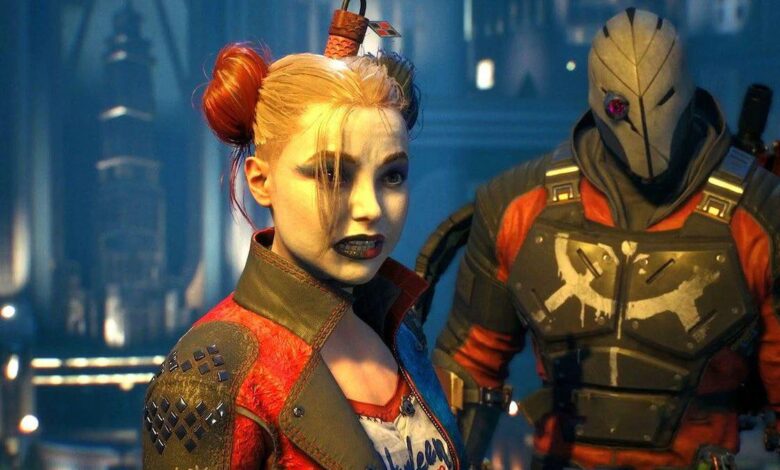 Suicide Squad: Kill the Justice League is an upcoming looter-shooter-type game. At this current moment in time, we only know that you can play as 4 characters, Deadshot, Harley Quinn, Killer Shark, and Captain Boomerang.
While the seemingly badass Wonder Woman is the only member of the Justice League who is not under Brainiac's control, it's unclear whether the game will allow you to play as her.
After launch, the game will have 4 main characters to play as, if it's anything like Marvel's Avengers then this game will have a tough time after launch and even if they do not add DLC characters to play as. Marvel's Avengers when released allowed the players to only be one character online at a time, if you were playing in a group, only one member was allowed to be Captain America.
If this game follows suit then it might have a difficult time. I've been thinking about the game and wondering if the possibility of DLC characters would be a thing and who would I personally want to see join the roster.
5. Bloodsport
Bloodsport is a unique character, recently making his live-action debut in The Suicide Squad and played by the incredible Idris Elba. Bloodsport showcased in that movie that he can create anything with his suit has a load of tech, and is just generally badass. I think given the way the customization is within this game, Bloodsport would fit right in.
4. Killer Frost
Killer Frost is one I think could work or could be a major flop, This would all depend on her gear, customization, and playstyle. We know Killer Frost was a part of the Suicide Squad at one point so she has ties to the group, whether or not she would work in this type of game remains unseen, but I would like to see her in it.
3. Peacemaker
Peacemaker makes the list simply because of the hype he had got from appearing in the Suicide Squad movie, as well as his own personal live-action TV series starring John Cena. I would even go as far as to say Cena would lend his voice to the game. I'd personally probably rock Peacemaker quite a bit.
2. Reverse Flash (Daniel West)
This is purely for my own entertainment. I remember reading a story a few years ago and seeing Daniel West on the squad, it was amazing. I personally think the game could pull this off. It was a massive debate for years would a speedster game work, and Captain Boomerang has the tech in the game, we have the Flash, so a Reverse Flash could work.
Honorable Mentions
This list could potentially go on for a while, and while not every character could get into the game, there is a long list to choose from. You have the likes of Heatwave, Rainbow Raider, Bronze Tiger, Golden Glider, Katana, Vibe, Polka-dot Man, and more.
1. Captain Cold
Captain Cold would be a fine addition to the game. As we have The Flash, Captain Cold could be brought in to be used in the multiplayer side of the game. He has that swagger, he has the motivation to go against the Flash, and he has tech so he could be easily customized like many of the characters on this list, I think he would be the perfect DLC character.
If this game truly wants to succeed after the release, then it needs to continue to give fans great DLC, and more characters. Marvel's Avengers suffered badly for the lack of characters to use in multiplayer and even suffered a worse fate with how much time passed with each DLC character.