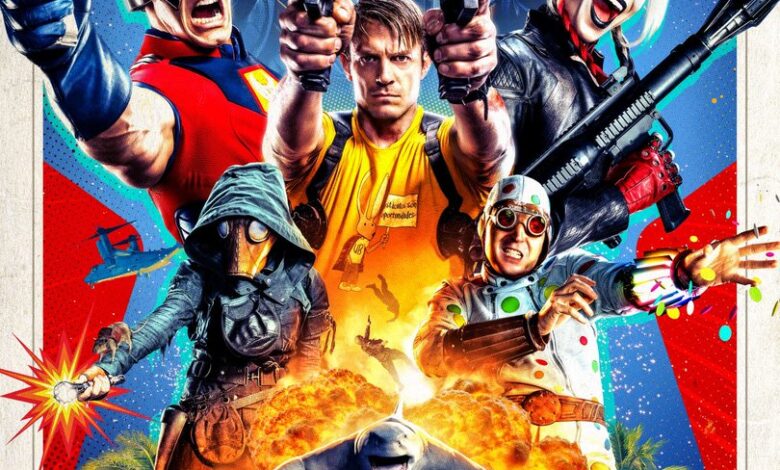 Before the trailer for James Gunn's "The Suicide Squad" released, James and the cast members all released their own character posters from the movie. After watching the trailer multiple times, I do so I have full faith in this movie, as I did with the first Suicide Squad movie.
James Gunn always delivers well in his movies, just look at what he managed to do with Guardians of the Galaxy. I trust him with these characters from minor to major characters and not to mention huge actors in these roles.
Margot Robbie returning as Harley Quinn.
Margot Robbie as Harley Quinn is absolutely perfect. She's a huge draw for DC Comics and kills it each time she's in any movie. I'm looking forward to seeing this version of Harley in the movie.
Peter Capaldi as The Thinker
I don't know much about The Thinker or even Peter Capaldi, but from everything I've seen of the character in animation or cartoons, seems like this will be such a unique character to see in live-action form.
Sylvester Stallone as King Shark
Sylvester Stallone as King Shark is great, he's already being a huge talk on Twitter about how great he will be in the movie as well as how great he was in the red band trailer. I agree with all of it, I love King Shark as a character and James' take on the character seems brutal.
David Dastmalchian as Polka Dot Man
David Dastmalchian seems to be everywhere lately, Marvel, DC in a couple of projects, and MacGyver. David is such a great and talented actor, I'm excited to see what he does with this character. Polka Dot Man is someone I didn't even know of until I saw him cast so this is a brand new character for me to learn about.
Michael Rooker as Savant
He's Mary Poppin's Y'all. Michael Rooker follows James Gunn from Marvel to DC and has joined The Suicide Squad as Savant. Another character I know nothing about but from the trailer and poster he looks weird and yet I'm fully interested in his character.
Viola Davis returns as Amanda Waller
The big bad scary boss lady, Amanda Waller will be returning in The Suicide Squad once again played by the incredible Viola Davis. She was one of the standout characters in the first Suicide Squad movie. She was fierce, badass, and took no BS from the "bad guys".
John Cena as Peacemaker
Probably one of the best castings for this movie was John Cena, I did not ever expect him to become a DC character. Peacemaker must be a standout in this movie since Warner Bros and DC have already given James Gunn and John Cena a series over on HBO Max with the Peacemaker character.
Sean Gunn as Weasel
Another actor following James from Marvel to DC is James' very own brother, Sean. He's doing the motion capture for Weasel in The Suicide Squad. Sean is a funny actor, Can not wait to see what he does with this character.
Daniela Melchior as Ratcatcher 2
As a running theme with characters in this movie, this is another character I know nothing about so a big thank you to James Gunn for giving me homework to do on the characters throughout this movie. Ratcatcher 2 is an interesting name, not sure what the powers or abilities are but I'm excited to find out.
Idris Elba is Bloodsport
I am curious to see Idris in this role. There was a lot of speculation about who he was playing exactly, many thought a recast Deadshot, others including myself thought he would be Bronze Tiger. It was interesting to see him playing Bloodsport, an old character from deep inside of the characters of DC Comics.
Jai Courtney returns as Captain Boomerang
Back in the original Suicide Squad movie, Boomerang was always a standout character and this was the character that made me a fan of Jai Courtney. His portrayal of the character was incredible and truly nailed the characteristics from the comic pages.
Joel Kinnaman returns as Rick Flag
Joel Kinnaman portrayed Rick Flag incredibly well in the first Suicide Squad movie. His teamwork with Deadshot and Harley Quinn was amazing, their chemistry bounced off each other. I'm expecting him to be the same badass soldier he was with a less strict attitude.
Overall I'm super excited to see this movie, the posters and trailer got me even more hyped up for the release later this year. James Gunn did the Guardians of the Galaxy perfectly, each character shined in those movies, I'm hoping this continues in The Suicide Squad.