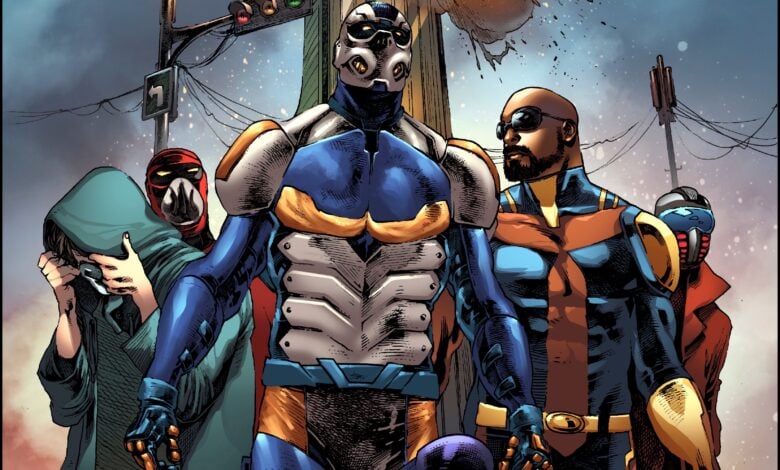 Homebrewed Heroes is a group of friends that wanted to play Dungeons and Dragons, but instead of adventurers, they wanted to be superheroes and "homebrewed" their own campaign. Playing together for over 10 years, the group brings together interests around video games, comics, fantasy, science fiction, and anime. The game sessions around this particular story are challenging and entertaining enough that it was decided to turn the sessions into a comic book.
If you would like to read more about this upcoming comic, you can go check out the Kickstarter which has already passed it's goal by clicking here.
What is C.R.I.T.?
CRIT is a superhero comic based on a Dungeons and Dragons Homebrew game. It is an action/adventure series that centers around a group of friends that have gained superpowers after an accident at work.
As with any tabletop game, the outcomes of the story depend on how the players roll the dice, so each story leaves you in an unpredictable spot.
The series follows the team as they uncover the source of their powers, face challenges, and grapple with choices that test whether or not they can truly call themselves… superheroes.
Will you like CRIT?
If you are anything like me, you'll enjoy this comic. It has everything I like so I'm already interested in the comic.
The comic entails stories that feature crime-fighting, vigilantes, tongue-in-cheek humor, detective work, mystery, and superheroes.
Movie and TV like Police Academy (a classic movie), The Other Guys, Beverly Hills Cop (another class), My Hero Academia, Bad Boys, Deadpool, and Guardians of the Galaxy.
Comics like Quantum and Woody, Suicide Squad (personally some of my favorite comics to read), Archer and Armstrong, Green Lantern Corps, Cable and Deadpool, and Buddy Cops.
---
Now, if you want to buy the comic but not be similar to everyone else, the Kickstarter is showing that the comics can have up to 5 different variant covers ranging from;
Standard
Variant
Villain Foil Deluxe
Hero Foil Deluxe
The Rewards for the Kickstarter range from a variant of stuff that can include mini-poster sets to a tee shirt to a name in the thank you section.
---
Credits
Christopher Michael – Creator, Writer, Artist, World Builder, Dungeon Master
Cristiano Cruz – Colourist
Brad Haynes – Creator and Writer of Caliber, Editor, World Builder
Terreyl Wilkins – Creator and Writer of Bolder, Letterer, Editor
The Players
Obie Dancy – Reach
Austin Fergusun – Spectre
Ryan Kidd – Bones
Follow Us