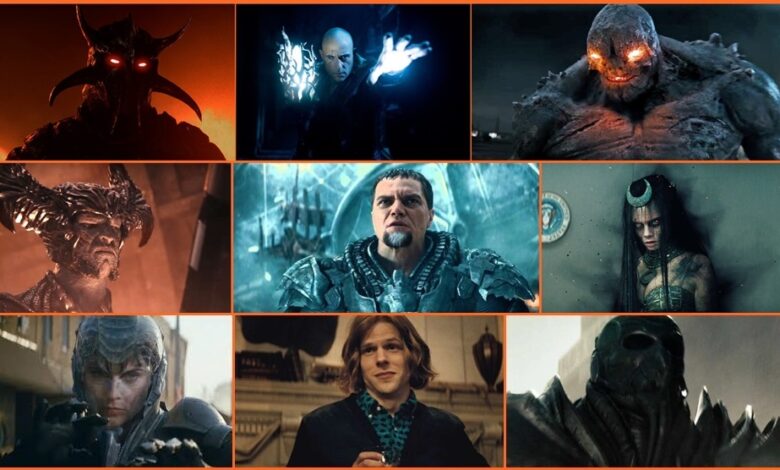 With Wonder Woman 1984 coming out in theaters and on HBO Max on December 25, it felt appropriate to rank each main villain from the previous DC Extended Universe Movies.
8. Lex Luthor (Batman v. Superman: Dawn of Justice): It is sometimes hard to believe that the filmmakers thought that Jesse Eisenberg seemed like the best choice to play Superman's arch-nemesis. Eisenberg is a terrific actor, but Lex Luthor is a character who is cold, calculating and almost always able to make it seem like he is in control of a situation. However, Eisenberg portrays Luthor as an eccentric and hyperactive psychopath with no visible proof that he is in any way sane. The writing for him is almost even worse. When he isn't shoving jolly ranchers into the mouths of government officials or putting a jar of his urine on display in a courtroom, he comes up with the most insane and complicated schemes that seem too far fetched to actually have worked. It honestly isn't even clear why he hates Superman. Luthor benefits from the destruction caused by the events of Man of Steel due to his company performing much of the damage control. If it is because he sees Superman as someone who is too dangerous, then why on earth would he create Doomsday later in the movie, a character who only knows carnage and destruction? Almost nothing about this version of Lex Luthor works, which is a shame because Superman's greatest enemy deserved so much better.
7. Steppenwolf (Justice League): When you think of Justice League villains, some that may come to mind are Darkseid, Brainiac, the Legion of Doom, or Vandal Savage. The point is that Steppenwolf would probably not be high on the list of villains that fans would want to see the Justice League fight. Of all the antagonists that the Justice League are known to go up against, this is who they went with? Steppenwolf is a brutish henchman for Darkseid (who doesn't even appear in the movie), and not one who could ever really work as a big bad, especially for the iconic team's first movie. While Ciarán Hinds is clearly trying to make the role work with his voice performance, the writing, CGI appearance and repeated lines about "mother" prevent the character from ever being someone that the audience can take seriously. Perhaps the Snyder Cut will manage to make this villain threatening, but given the first updated image of the character, it does not seem likely for that to ever happen.
6. The Enchantress (Suicide Squad): This movie is filled to the brim with problems and the Enchantress (Cara Delevingne) is one of the many reasons why Suicide Squad did not work as a film. There are indeed some things to admire about the character, such as the effects when she takes over Dr. June Moone and the conflict with Colonel Rick Flagg (Joel Kinnaman). However, the character suffers from poor storytelling and extremely generic dialogue. Her motivation is unbelievably generic and not once does she really ever seem threatening to the Suicide Squad. There is also her infamous dance during the climax of the movie. It is sometimes hard to get past the fact that no one was able to see that as embarrassing when they were making the movie. Although there are some neat ideas surrounding the character and Delevingne is trying with the performance, the Enchantress is just a bad villain in an even worse movie.
5. General Zod (Man of Steel): Arguably the second most famous member of Superman's rogues gallery, General Zod was the first villain to appear in the DC Extended Universe. In some ways, Michael Shannon managed to make Zod a sympathetic and interesting antagonist for Clark Kent (Henry Cavill). In other ways, the character was so over the top in both his motivation and Shannon's performance that it was hard to take this version of General Zod seriously. While Zod is able to stand out due to his conflict with Clark, there are points in which the character does not work as a villain. On top of his constant screaming, his actions such as bringing Lois Lane (Amy Adams) onto his ship and showing Clark a simulation of him sinking into a mountain of skulls when he is trying to get him on his side is very confusing. Overall, the character is a mixed bag. While there are many things to admire about Zod, some of the writing and Shannon's performance prevent him from being a truly amazing villain.
4. Ares (Wonder Woman): Even though the CGI on the character is very embarrassing and the twist on his true identity is so obvious, Ares (David Thewlis) still manages to be a very solid main villain. Along with his connection to Wonder Woman (Gal Gadot), Ares manages to stand out due to his unique way of contributing to the First World War, in which he is not creating weapons but giving the warmongers and psychopaths who enjoy the conflict the ideas to move forward in the war. Thewlis gives a supremely menacing performance with him eager to convince Diana on why he is in the right when it comes to his actions. Combined with the chaos he is releasing onto the world with his manipulations and his impact on Diana, Ares is one of the many strengths in the movie Wonder Woman that contribute to it being one of the best DC movies of all time.
3. Dr. Sivana (Shazam!): Shazam is a terrific movie to add to DC's accomplishments in the film industry due to its humor, unique premise and story surrounding the characters. Dr. Sivana (Mark Strong) is one of the many aspects about Shazam that really help the film succeed. Almost serving as a dark mirror for Billy Batson (Asher Angel), Dr. Sivana grew up in a very depressing environment, hated by his father (John Glover) for accidentally causing him to become crippled and rejected by the wizard Shazam (Djimon Hounsou) for not being worthy enough to be granted his powers. While Strong struggles with maintaining an American accent, his performance is still great, giving the character a ruthless side and intimidating presence, especially when up against a group of children. There are several instances in the movie in which Strong shines, particularly whenever he is having moments of self-doubt only to be corrupted by the Seven Deadly Sins.
2. Black Mask (Birds of Prey and the Fantabulous Emancipation of One Harley Quinn): While some may argue that this version of Black Mask is a betrayal of the character from the comics and is nothing like his original counterpart, it is pretty apparent that this villain is nothing short of amazing. Ewan McGregor soars as Roman Sionis/Black Mask and manages to make this villain both really frightening and hilarious. While his motivation of trying to kill Harley Quinn (Margot Robbie) and take a valuable diamond from the child Cassandra Cain (Ella Jay Basco) might seem small, it is McGregor's performance that allow any problems with the character to be ignored. The actor just chews the scenery with terrific writing and dialogue being provided to support the character. Backed up by the sadistic Victor Zsasz (Chris Messina), Black Mask steals the movie by committing various horrific deeds throughout the story that make the audience hate him enough to hope for his comeuppance, and it does not disappoint when that does eventually happen. Even though he might be the most small scale villain in the DCEU, Black Mask is the most despicable and entertaining antagonist without a shadow of a doubt.
1. Ocean Master (Aquaman): The half-brother of Arthur Curry/Aquaman (Jason Momoa), Orm/Ocean Master is able to stand out from the other villains in the DC Extended Universe by having a sympathetic background and understandable motivation without seeming too outlandish or over the top, and when a character like this is in a movie that is nothing but outlandish or over the top, it is amazing that this was even pulled off at all. Patrick Wilson gives a great performance and is able to make the character very interesting through his acting ability and James Wan's direction. Not only is Ocean Master an engaging villain, but his reasoning of the surface poisoning the ocean with their pollution is very convincing even though his way of handling the problem by attacking them is wrong. While Black Manta (Yahya Abdul-Mateen II) is Aquaman's official arch-enemy, Ocean Master is undoubtedly his most personal adversary due to his close connection. Ocean Master's intimidating presence, sympathetic motivation and performance from Wilson all allow him to be regarded as the best villain in the DCEU.