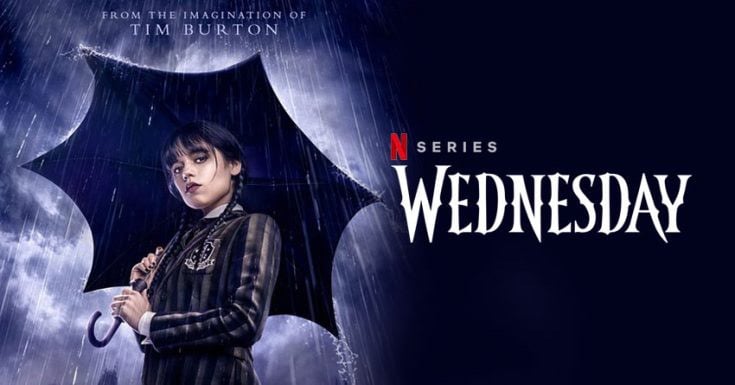 Now before I fully dive into this series, let me just state this is my true first time diving into the realm of Tim Burton, The Addams Family, and anything similar to this. So this series is basically my introduction to this fantastic, unique, and fascinating world that Tim Burton has created as well as my first time diving into The Addams family which was created by Charles Addams.
The tone of the series was impeccable. I was completely blown away by the tone. I loved it from the first episode and it didn't lose that tone for the entire series. The writing and the shots were all outstanding. I thought it would be cringe, it would be very predictable but it wasn't at all.
The characters, where to begin with these? Firstly, Jenna Ortega as Wednesday is a perfect casting. She absolutely killed this role. The acting ability in this series was unmatched, she was a classic. The rest of the cast was arguably great. No one tried to over-act or try to steal the spotlight, I think this is in large part because of the writing.
One of the standout things for me in this series was the hand. The hand came and helped Wednesday with an investigation, he was everywhere and ultimately Tim Burton made the choice of allowing this hand to be it's own character. To my surprise, it wasn't a CGI hand, but instead, they used CGI to delete the person out of shots and only kept his actual hand.
I Haven't seen any of Tim Burton's work, I have however seen someone recreate his style of animation/drawing and art style from YouTube videos I've watched. That was a major feature throughout this series with drawings and artwork with the style, but Tim took it one step further and had the creature (The Hyde), and the Werewolf in the style of Tim's art. The dull-looking color's with the big eyes and skinny limbs.
Overall, I expected to go into this and dislike it within 2 episodes but within the first episode, I was hooked to the point where I stopped watching a series I was binge-watching and binged Wednesday instead.
I can not recommend this series enough, if you are debating on watching it, DO IT.
It's definitely one of the best things that Netflix has released in a while. I have slowly been falling out of love with Netflix and this series grabbed and dragged me back in.
It's ultimately been received well online with many people praising it so I can see a season 2 happening as soon as possible.