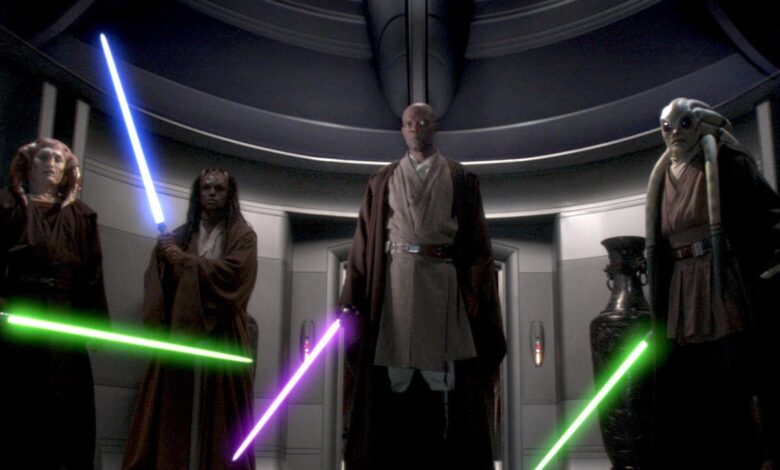 While reading through The Secrets of the Jedi book. It dives into a ton of information about the Jedi, explaining a lot and showing off some Jedi Masters and Knights. Well, I figured I'd give my top 5 Jedi Master and Knights designs purely from this book.
Keep in mind that this is my list, so it might not agree with yours and that's what makes these types of listings unique.
5. Ki-Adi-Mundi
Ki-Adi-Mundi is such a great Jedi Master and one of the standouts within The Clone Wars series. Overall design I initially thought was weird, which I didn't care for and he just looked hilarious until I started to read and learn more about his race. His overall features are what gives him more personality compared to other Jedi.
4. Kit Fisto
Honestly, say what you will about Kit Fisto within live-action, but for me, he makes the list. He's a badass squid-looking Jedi. His personality is hilariously awesome, his style and confidence are up there with being some of the best within the Jedi Order and just generally I didn't expect to like him this much.
3. Luminara Unduli
Luminara Unduli was a unique Jedi. While her personality within the Clone Wars animated series portrayed her as a fierce warrior. Her overall design was and still is so unique. I loved that she wore mainly black clothing with her head scarf. The markings on her skin were also a staple of her unique design. It made her unique. Her fate was so brutal too.
2. Ahsoka Tano
Over the years, Ahsoka Tano has had some great appearances and designs. Personally, I loved her design in The Clone Wars which was marked off with a fantastic color choice in her sabers, which were yellow and green. Lately, her design within live-action is truly great.
1. Quinlan Vos
My love for Quinlan Vos is truly huge. It is up there with Maul, Anakin, and Obi-Wan. What caught me was his appearance, he felt like this badass with dreads. His design when he was on the dark side was also truly fantastic. One day I hope he returns to live-action.