There are a lot of suit options to choose from when it comes to the latest Spider-Man 2 game. You now have colored options on some of the suits as well as plenty of new ones to dig your teeth into.
Today we want to give our top 10. We did try to rank these together but we were both off by a million miles so we've decided to give you TWO separate rankings. Both myself and Phil Weaver will give you our top 10 suits, ranked as well. You can see that in our top 10, only two suits made it into both of our lists hence the reason we decided to give two lists.
---
Daniel Lewandowski's list
10. Anti-Ock
I struggled for 10th place because there are so many beautiful suits you can choose from. The Anti-Ock suit just pinched 10th. I think it's mainly due to how the first game ended in the fight against Doc Ock. I wouldn't have had this 10th if it wasn't for the color options but the white version of it is just so good.
I'm a sucker for lighting on a suit and the white and light blue make for a different but interesting take on the Anti-Ock suit. It feels more light-hearted than it did with the original colors but I do like this suit a lot.
---
9. Anti-Venom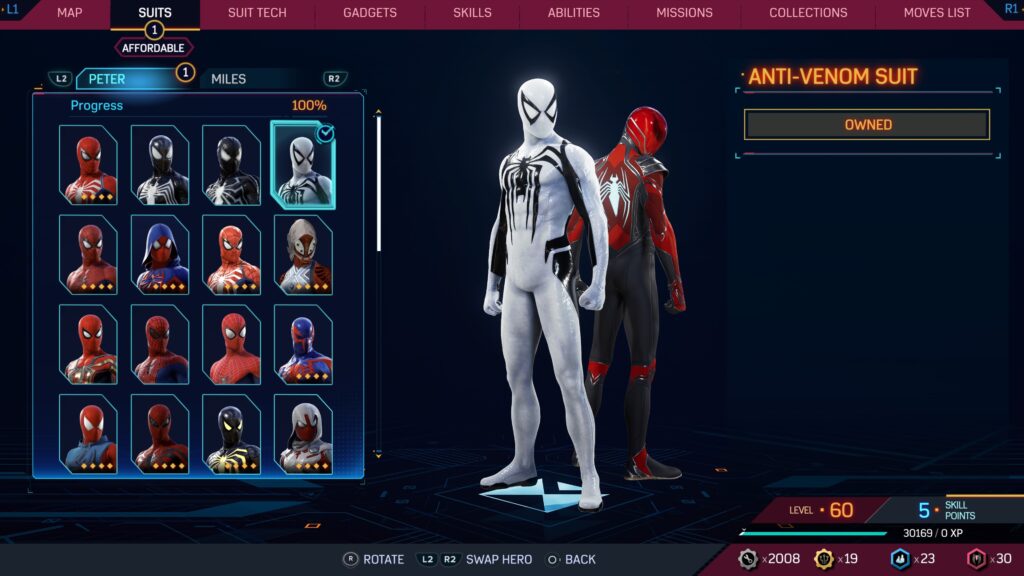 I never expected this suit to even be in the game, never mind Peter to use it because of the main storyline. It's identical to the symbiote suit but it's just white and it's again, perfect.
When I unlocked this suit, I didn't really change it after that. I loved how the story just fit into the white suit and the ability to control the symbiote's powers but less angry. Bravo to Insomniac for not only trying this but for actually pulling it off.
---
8. Arachknight
The first of two suits we both have on this list. The cape and the hood did it for me. There's a similar version for Miles Morales as well. There was a period of my playthrough where I had them both rocking the cape and hood.
It's just different and the color options are fantastic as well. The only thing I didn't like about this suit was some of the cutscenes made it a bit wonky but when you just look at it, it's stunning.
---
7. Iron Spider
This suit will always have a special place in my heart. I think it's 7th only because I overused this suit during the first game. I loved it during Infinity War and I still love it now. I wore it for a bit during my first playthrough in the second game but not nearly enough as the first.
We've had versions of the Iron Spider suit in the past but nothing quite as great as this. I do hope it's a suit we will see again within the live-action aspect of the MCU.
---
6. Symbiote
This is the second suit that's on both of our lists. This symbiote suit is perfect. I do like the black suits but this one hit differently. The moment you activate the abilities and start beating the enemies down is crazy immersive. You feel every blow Peter is throwing out the more angry he gets.
It's another mainline story suit that Insomniac has got right. There's been quite a few suits within the main story but this is further proof that Insomniac know exactly what they're doing.
---
5. Amazing
Controversial? I know. I love the first Andrew Garfield suit. I know this isn't going to be on many people's top 10 lists but this suit is just great. I always loved Andrew Garfield's version of Spider-Man so that's why this suit sticks with me.
There's nothing much more to say about the actual design of the suit itself but I just love it.
---
4. Upgraded Classic
One of my favorite suits in all of Spider-Man. This one was first introduced in Captain America: Civil War and further showcased in Homecoming. It's just beautiful, it feels modern and it's become a definite mainstay within the MCU.
It's one of those suits you can wear during a playthrough and still feel like normal Spider-Man. It does always feel like something the games Peter Parker would wear so it's a nice suit to wear for a while.
---
3. Hybrid
The beginning of the struggle for my list in particular. These top 3 I really couldn't properly decide on which suit I wanted to rock. The hybrid suit is from No Way Home and the gold spider really pops out, even more so knowing that particular spider is from the Iron Spider suit.
I just think in No Way Home, Holland's suit popped that little more when all 3 were stood side by side. I love the design and how it came to be. Again, it's a tough one for the top 3.
---
2. Advanced 2.0
It's tough to ignore the beauty of Insomniac's creation. The first one was stunning but 2.0 it's just a lot cleaner, especially when you compare the two suits side by side.
The white spider was a success from the get-go with Insomniac and people loved it. It's no different in this game, I didn't really want to change the suit at the beginning because I love the look of this one. It's a close one for me when it comes to the top 2.
---
1. Red and Blue
I loved the red and blue suit. This particular suit is the one Tom Holland's Peter Parker makes at the end of No Way Home, most likely paying homage to the other Peter's in the film. I found myself using this particular suit for a large portion of the game.
It has a perfect blend of modern and classic, I think that's what pulled me towards it. There are a lot of suits at the top end of the spectrum and it was close but this one just edges it in the end.
---
Phil Weavers list
10. Kumo
The Kumo suit is just an fantastic and unique design, especially for Spider-Man. It's so drastically different from what Spider-Man typically is that it makes the suit stand out in the game. What I love about this suit and design is the tiny details within the tattoos.
It gives a fresh take on the Spider-Man style and the mask has a true spider feel to it.
---
9. Webbed Black
You know, Spider-Man 3 is usually disliked for a lot of reasons but honestly, I like it. I remember seeing the black suit for the first time and loving it because it was just that, it was a black spidey suit.
While it's not drastically different in the sense that you can tell that it is a symbiote, it just gives evil vibes and that's all it needs. In the game, it looks fantastic too.
---
8. Classic Black
The way they've translated this suit from the animated series in the 90s or early 2000s is absolutely lovely. I used this suit for a good portion of the game when I was doing some trophy hunting and seeing the sun reflect on the suit was godly.
Seeing the sun hit the suit at different angles and seeing the light blue and red hues was just so satisfying to see.
---
7. Into the Spider-Verse Noir
There is nothing much to say about this other than I'm thankful for Insomniac Games putting it into the game. Seeing the Into the Spider-Verse style on this suit while swinging or using this suit just to free fall to the ground is amazing.
I do hope we get to see more Into the Spider-Verse suits in the game.
---
6. Spider-Man 2099 (Navy and white)
I think the Spider-Man 2099 suit is universally loved by a ton of Spider-Man fans. I loved the suit in the first game and loved the suit in this game. What I loved even more was the navy/white colorway of the suit.
Seeing and playing the game while using this suit was simply *chef's kiss*.
---
5. Aurantia
The only DLC suit to make the list. I used this suit early in the game and I just loved it. The suit style makes it pop, and the mask is slightly weird looking like a weird spider but the overall design, the red/black/grey/gold colors match each other.
What would make this suit better would be having other colorways with it.
---
4. Spider-Punk (White)
Typically I am not a fan of the Spider-Punk suit but when I was looking for a suit to use in the game one day I saw that the suit had a white colorway so I used it while doing some side quests. I loved it. The white truly makes this suit usable.
This colorway will be the only time I use the suit in the future.
---
3. Arachknight
The Arachknight suit is simply a beauty. The white, the red, the hood, everything about it is just sublime. I didn't truly know about this suit before the game but I have seen it before in a comic. I didn't think I'd like this as much as I do.
This was the first suit I unlocked in the game and used for quite a while.
---
2. Superior
From the moment I saw this suit appear in a Spider-Man comic I have loved it. I used this for a large portion of exploring within the game. It's just so sleek and modern. You can also feel that it was created to be superior to Peter's suit.
This is one suit I'd love to see in live-action.
---
1. Symbiote
What can about this suit other than it's badass, it's powerful and just alive? You use this suit for most of the story within Spider-Man 2. Throughout the game, you can see this suit evolve and just turn into this monster.
The way this symbiote becomes the suit and slowly becomes Venom over the course of the game is truly incredible.
Follow Us